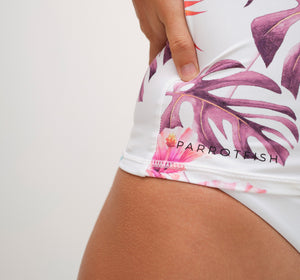 Once you have received your Parrotfish swimwear, it's important to care for it in the right way, to keep it looking new for as many adventures as possible.
The equivalent of two garbage trucks of plastic microfibers are released into the sea & waterways in Europe every day from washing machines. Plastic microfibers are tiny fibre particles that enter our water systems when synthetic fabrics break down during use and washing. This is common with synthetic materials (such as nylon, polyester, acrylic) but can also occur with natural materials (such as cotton or denim). 1 pair of used jeans can shed 56,000 microfibers per wash! Natural materials are usually mixed with chemicals, which makes them just as harmful and long lasting in the ocean as synthetic ones.
WEAR MORE THAN ONCE
Our garments are made from REPREVE, which is antimicrobial. That means you can absolutely wear them more than once without washing them in between. Simply rinse with lukewarm water (to remove the salt from the ocean) and hang to dry.
HAND WASH OR COLD MACHINE WASH
After wearing your Parrotfish swimwear several times, you'd like to wash it. Our strong recommendation is to either hand wash with lukewarm water or machine wash on the coldest setting (30° Celsius or 86° Fahrenheit). Once washed please hang to dry, do not tumble dry or bleach your garments.
USE A MONOFILLAMENT LAUNDRY BAG
Whilst we wait for washing machines to make their way into the 21st century and introduce filters, we can focus on something we can all do today: Using a monofilament laundry bag to collect the microfibers, and keep them from making their way into our rivers and seas.
If you'd like to get one whilst also supporting another small business, we would recommend GuppyFriend Bags.