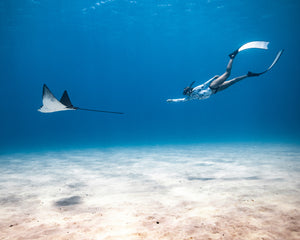 We Exist To...
Do Good
Having a sustainable supply chain is not enough. We lead by example and actively contribute to protecting the planet and the oceans we play in.
Empower
With our brand we hope to empower women to break barriers, make a splash, and redefine what it means to be "feminine".
Be Human
Being humans first, and a business second guides everything we do from the way we communicate to how we treat those we work with.
Who we are
Maureen & Lukas
We're two people, with a passion for the sea. Whether it's diving under the waves or riding on top of them, we're happiest in the water!

Living in South East Asia we're privileged to be surrounded by the world's most incredible ocean wildlife and to have worked with some of the remarkable people trying to preserve it. The sad truth is, no matter how remote, no matter how pristine a place might seem at first, the signs of plastic pollution are everywhere.

With Parrotfish, we set out to create beautiful swimwear that's designed specifically for water-sports and does its part to protect the oceans we play in.
- Maureen & Lukas