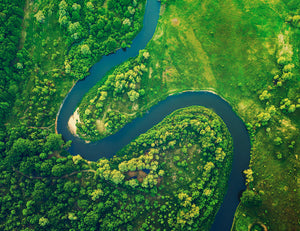 PART OF THE SOLUTION
Simply minimising our environmental footprint is not enough. Businesses of all sizes need to actively be part of the solution to the world's challenges.
As a proud member of '1% for The Planet' we have pledged to donate at least 1% of all pre-cost revenue to enivronmental organisations tackling the most pressing problems our planet faces.
Through '1% For The Planet' we receive expert advice on which non-profits to partner with and are provided with personalized giving strategies to ensure the highest impact possible. In this way we are able to cut out the middleman and directly support those non-profits whose missions we share.
We strongly believe that the most urgent crisis we face is that of climate change due to our reliance on fossil fuels. As such we choose to support those organisations driving innovation and adoption in the field of renewable, green energy.
FIBER MADE FROM RECYCLED PLASTIC BOTTLES
500 Billion plastic bottles are used every year. Only 9% are recycled.
We've partnered with the most innovative textile manufacturer in the world to produce fabrics made from recycled post-consumer PET plastics. Every rash guard we make is made from 24 plastic bottles pulled from landfills and the ocean.
The process
Bottles and other plastics are collected from landfills and shorelines, sterilised, and shredded into chips.
The shredded chips are ground, melted and formed into plastic pellets.
At this point the plastic pellets are melted again and extruded into a fine yarn which is then woven into high performance, UPF 50+ fabric.
The final step involves printing, cutting and sewing the fabric into individual Parrotfish Swimwear.
Aside from pulling post consumer plastic out of the ocean and landfills, using recycled plastic requires between
25% and 75% less energy
than using "virgin" materials.
LEAVE NO TRACE
There is no perfect solution to eco-friendly packaging (yet), but we believe we have come as close as possible by being part of the No Issue Eco Packaging Alliance.
Firstly, our minimal packaging is completely plastic free, right down to the tiniest detail (not as easy as you'd think). From hang tags and mailer bags to shipping labels and stickers.
On top of that all the packaging we use is plant based and 100% compostable:
Cards: Our thank you cards and hang tags are entirely made from sugarcane waste.
Tissue, stickers & boxes: All of the paper in our packaging is FSC certified and made from recycled, acid free paper which is then printed with soy-based ink (which means, once again, fully compostable).
Mailer Bags, shipping document envelopes & address labels: This is where things get really challenging as even the greenest companies often find it impossible to avoid plastic in this step. Our mailer bags, shipping document envelopes and address labels are fully compostable. The mailer bags are made from corn, the shipping document envelopes are made from recycled paper, and finally the (often overlooked) address labels will also break down in a home compost within 180 days and 90 days in commercial composting conditions.